Chirostenotes pergracilis (Gilmore 1924)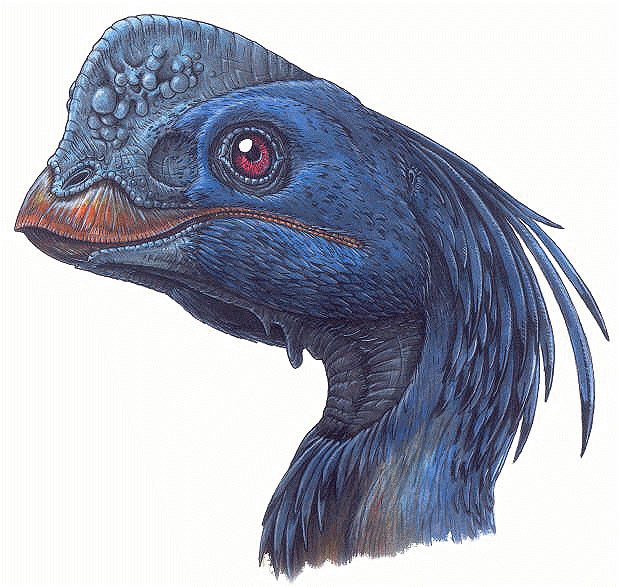 | | | | |
| --- | --- | --- | --- |
| Name Means: | "Narrow Hand" | Length: | 7 feet (2 m) |
| Pronounced: | Ky-row-Sten-o-tees | Weight: | 66 pounds (30 kilos) |
| When it lived: | Late Cretaceous - 70 MYA | | |
| Where found: | Alberta, Canada | | |
Chirostenotes was about as large as a grown human but it weighed much less than the average man. That's in part because of it's slender, sleek build. It's hands were usually long and slender and that characteristic resulted in its name, which means "narrow hand." But don't be fooled by Chirostenotes slender form; this lightweight dinosaur could move very quickly and strike at prey before they knew of danger.
This little dinosaur was about 7 feet in length and 3.5 feet in height. Its weight is has been estimate as low as 20 to as high as 50 kg. It was primarily a carnivore, but may have been omnivorous to some extent. The diet of Chirostenotes largely consisted of small game such as lizards and fish. It may have also eaten eggs. Chirostenotes walked upright on two legs. The snout was long and tapering. A high and rounded crest was on top of the head.
Chirostenotes had three thin clawed fingers on each hand. The middle finger was longer than the other two. The three fingered hands were well suited for grabbing fish. There were two pleurocarpals (openings in the sides) in each vertebra. The jaw had a symphysial (made of bones grown together) ridge. The openings called pleurocoels in the vertebrae may have been used as an air sac system, one which is similar to that in modern birds. In birds the vertebrae have a series of air sacs which are connected to the lungs.
It was discovered in the Horseshoe Canyon Formation of Alberta, Canada. The specimen included parts of the skull, much of the pelvic girdle, and elements from all regions of the vertebral column. Gilmore formerly described the specimen in 1924. Later, a bottom jaw of a really weird animal was found in Alberta and named Caenagnathus. It had no teeth and was long and thin. For many years, people thought that it might be the jaw of Chirostenotes. A few years ago, a skeleton was found in the collections of the Royal Ontario Museum that had been collecting dust for almost 70 years was cleaned up. What they found was enough of a skull and skeleton to prove that Chirostenotes and Caenagnathus were the same animal. Chirostenotes was the oldest name, so it was used. In addition to those discovered in Alberta, Canada, fossils have been found in Montana, Wyoming, and North Dakota in the U.S.
Chirostenotes pergracilis (Gilmore, 1924) is the basic '"type" species. It includes C. elegans (Parks, 1933;Currie and Russell, 1988) and is closely related to or may be synonymous with Macrophalangia canadensis, M. elegans, Elmisaurus elegans (possibly), Ornithomimus elegans, Caenagnathus collinsi and Caenagnathus sternbergi.
C. rarus Osmolska, and Elmisaurus rarus.
Questions have been raised about its classification. The digital proportions and hand configuration are comparable to those of Deinonychus antirrhopus and Velociraptor mongoliens suggesting it should be classified as a dromaeosaurid. It resembled the troodontid Troodon, but had longer, less sharply curved claws.
A group of paleontologists reconstructed this dinosaur. Chirostenotes had three long and thin fingers, armed with long and acute nails. These would turn out to him very useful to capture small animals. Its diet was very varied. With his long later legs and their powerful similar fingers to those of the birds, it had to be fast in the race. The speed was probably its main defense against its enemies. It lacked teeth, but had a beak similar to that of a parrot. It head was topped with a crest, like the bony protuberance of the Oviraptor . The experts noted that it was not only very similar to Oviraptor but lived only two million year years before it. They concluded that it was an earlier form.
---
Edugraphics.Net | Feenixx Publishing |