Avimimus portentosus (Kurzanov, 1981)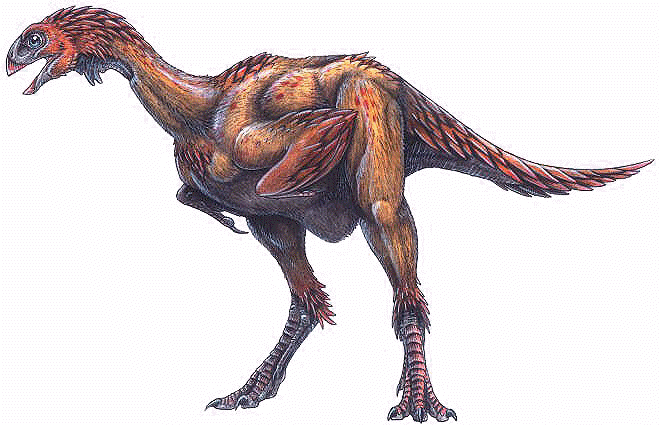 | | | | |
| --- | --- | --- | --- |
| Name Means: | "Bird mimic" | Length: | 5 feet (1.5 m) |
| Pronounced: | AYV-ee-MIME-us | Weight: | 45 pounds (20 kilos) |
| When it lived: | Late Cretaceous - 95 MYA | | |
| Where found: | Mongolia, China | | |
Avimimus was discovered by Russian paleontologist Sergei Mikhailovich Kurzanov during the exploration of the Joint Soviet-Mongolian paleontological expedition in the summer of 1973, at the Udan-Sayr (southern Gobi) location in Mongolia. It was a fairly complete skeleton of a bird-like theropod. With the exception of a crushed skull fragment, the bones were very well preserved. Udan-Sayr is in the foothills of the Gurvan-Sayhan mountain range. The red colored sand he deposits are 15 meters thick and can be very accurately dated. This is proven by the presence of teeth from Tarbosaurus, a carnosaur, known from the deposits of that age from various locations in the Southern Gobi. Three other partial skeletons were later recovered. It was named by Kurzanov in 1981.
Avimimus looked so much like a bird that its name literally means that it imitates a bird. It looks like a large reptilian roadrunner. Avimimus had a long, lean neck topped by a short skull that was equipped with a toothless beak and a relatively large braincase. It had long, slender back legs built for fast running. But its front limbs had not yet evolved into wings. They were lightly built and equipped with sharp, curved claws. The bones in it's wrists were actually fused together, much like that of the modern day cockatoo. In fact, Avimimus had the ability to fold its whole arm against its body, much like the wings of a bird. Unlike a bird however, Avimimus had a long bony tail. What's more, its pelvis resembled that of other theropods.
It was the first dinosaur to so clearly express bird features, in such large numbers. It is also the first theropods with such unusual structure of the pelvis. Such a combination of unique features places Avimimus in a category all its own.

Roadrunner - Geococcyx californianus
It is possible that Avimimus had feathers, however, deposits around its body are too coarse for such features to be preserved. However it was unearthed near other dinosaurs similar to itself, particularly Sinosauropteryx and Caudipteryx and their feathers were preserved. Even though none have so far been found, there is evidence that Avimimus could have had feathers. There are small ridges on its forearm that could be anchor points for feather shafts. Modern birds have bone "dimples" at the point of feather attachment, however the ridges present in Avimimus could be a pre-adaptation to feather attachment. Even if Avimimus did have feathers, it would seem very unlikely that it would be able to achieve flight, particularly due to its large body.
One of the great enigmas to have surfaced in the last quarter century of dinosaur paleo, Avimimus has features that could be ascribed to sauropods, hadrosaurids, basal theropods, oviraptorids, birds, and ornithomimids. Sometimes considered a chimera, recent remains indicate it was an Oviraptor.
---
Edugraphics.Net | Feenixx Publishing |