Beipiaosaurus inexpectatus(Xu, Tang & Wang, 1999)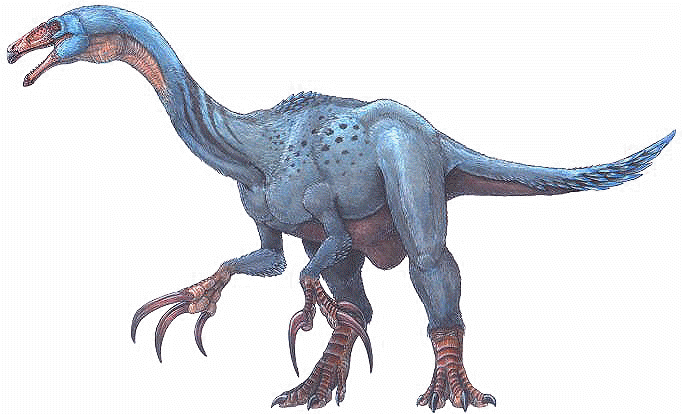 | | | | |
| --- | --- | --- | --- |
| Name Means: | "Beipiao lizard" | Length: | 7 feet (2.2 m) |
| Pronounced: | Bay-pee-o-Sore-us | Weight: | 100 pounds (45 kilos) |
| When it lived: | Early Cretaceous - 130 MYA | | |
| Where found: | Liaoning, China | | |
The discovery of Beipiaosaurus was announced in the May 27, 1999, issue of the journal Nature It was discovered in the famous shale quarries of Liaoning, China, which are well known for producing many incredibly detailed fossils of small dinosaurs and birds. This area has also produced the earliest beaked bird known, Confuciusornis, the earliest modern bird known, Liaoningornis, and the three feathered non-avian dinosaurs Sinosauropteryx, a compsognathid, Caudipteryx, an oviraptorid, and Protarchaeopteryx. It was named after Beipiao County, where it was found
The remains are fragmentary, consisting of Cranial fragments, mandible, 3 cervical vertebrae, 4 dorsal vertebrae, 1 caudal vertebra, scapula and scapulacoracoid, complete forelimb, and a complete pelvis with hind limb, but with its huge, sharp, curved hand claws, it could only be a Therizinosaur.
Most of the bird/dinosaur relationship studies are conducted on specimens from this quarry, as unique ecological conditions preserved even the soft parts of the animals that died at this site. These unusual conditions allowed for the perfect preservation of feathers. Beipiaosaurus had the longest feathers of any dinosaur yet found. These were protofeathers (See Feather Evolution) very similar to those of Sinosauropteryx. Author Xing Xu writes: "Most integumentary filaments are about 50 mm in length, although the longest is up to 70 mm. Some have indications of branching distal ends." Recent microscopic study of the structures of Sinosauropteryx show they are hollow with branching filaments, and generally indicate that they are a type of feather similar to, but different from, modern bird feathers.
Classified as a meat-eater, it is thought that these dinosaurs would also have fed on insects a great deal of the time. It is considered a bird-like dinosaur and shared a number of features that are now found on modern birds.
---
Edugraphics.Net | Feenixx Publishing |