Alioramus remotus (Kurzanov,1976)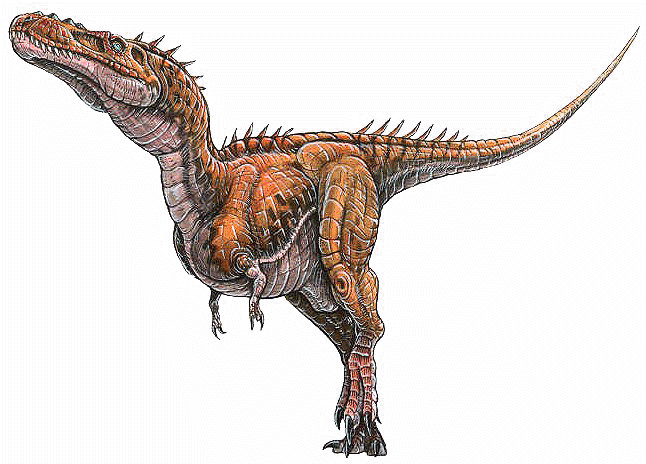 | | | | |
| --- | --- | --- | --- |
| Name Means: | "Different Branch" | Length: | 20 feet (6 m) |
| Pronounced: | Al-ee-o-Ray-mus | Weight: | 1 ton (1,800 kilos) |
| When it lived: | Late Cretaceous - 73 MYA | | |
| Where found: | Mongolia | | |
Introduction
Alioramus is one of the least known Asian tyrannosaurids. It was a stretch-snouted tyrannosaurid with a very rugose (bumpy) nose. In fact, there seem to be 6 prominent bumps on the nose. Otherwise, it probably looked very much like a T. rex. It has a very high tooth count (for a tyrannosaur, at 18 maxillary teeth), which lends credence to it being a primitive tyrannosaurid.
Alioramus is known from an incomplete skull and some foot bones collected from Nogon-Tsav in Mongolia.. As the name says, it is not a well known tyrannosaurid. It may have been an early version of the Asian tyrannosaur family as it has a braincase very similar to Tarbosaurus bataar. Like Albertosaurus in North America, this early tyrannosaur was not as large as its later cousins.
So little is known of this dinosaur that the there is even an argument as to whether it belongs as a tyrannosaurid. Dr. Phillip Curie wrote that the taxonomic status of Alioramus is uncertain because of the incompleteness and immature nature of the specimen.
---
Edugraphics.Net | Feenixx Publishing |